Reading this page: 5 minutes.
Installing indicators: A few minutes each if you know what you want.
Setting up your indicators: It is worth spending time experimenting, getting to know the settings of each indicator, and how they affect the information you see on your charts that you will be basing your trading decisions on.
MetaTrader Indicators
For us, the main aim of indicators is to show us points of interest on our charts – where we look to evaluate the latest winner between bulls and bears. We aim to only have the information shown on our charts that we need to make informed trading decisions, and to have those indications overlaid on that price bars/candles they relate to.
We tend not to use price-averaging indicators either on the chart, or in the histogram panel below because of its distance from current price-action. Yes, there is a certain amount of self-fulfilling prophecy and summary guidance provided by moving averages and other indicators but, for us, the edge they provide is too imprecise for our trading style and does not add anything to the chart that isn't already apparent from the bar formations.
The indicators in this section are the ones we use daily, as our market dashboard, to look for trade set-ups and to manage trades. They are designed to work on all timeframes and markets, showing technical-trading information that we combine with our own judgement of the overall market, and how it is behaving in relation to similar correlated instruments.
Please do take the time to look at how all these indicators are designed to work, and consider how you might use this information to make your trading decisions…
MetaTrader Chart settings for indicators, emails and smartphone notifications
We recommend the following settings for your MetaTrader Tools > Options > Charts settings to help keep your charts fast to load, and from using to much disk space.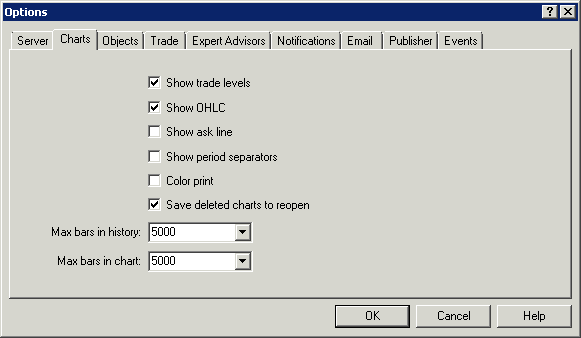 In order to receive email messages from our MetaTrader Indicators and EAs you'll need to enter some settings into Tools > Options > Email.
We use Gmail, and find that very reliable, but because the default SMTP server smtp.gmail.com for Gmail doesn't accept non-secure / non-SSL messages, you will need to use the lesser-known non-secure sendmail server address that they allow printers and other devices to send messages through: aspmx.l.google.com.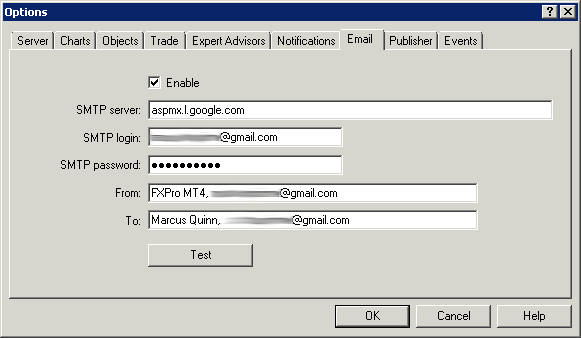 If you have an iPhone or Android smartphone, and have installed the excellent MetaTrader app, then you can also configure Push notifications to be sent directly to your phone to make sure you never miss an important message or signal.
You can find your phone's ID the App under Settings > Messages and enter it in MetaTrader under Tools > Options > Notifications.